Annoying Orange: Best Fiends Forever
Comments

14
1,601pages on
this wiki
Best Fiends Forever is the sixty-second episode in the series overall. This episode features Grapefruit, who has moved into the kitchen and becomes Orange's roommate. This also marks the return of Celery.
Plot
Grapefruit moved into the kitchen and annoyed Celery by faking "Knife" and Midget Apple by calling him a "baby apple" but goes too far when burning a picture of Princess Butterfly Kiss that belonged to Marshmallow after his prior attempts of upsetting him after hearing Midget Apple's statement "You wouldn't like Marshmallow... when he's angry!". This caused Marshmallow to become severely angry, building up enough anger to set off an explosion in the house, destroying a chunk of the house (including the kitchen, engulfed in flames), launching Grapefruit out of the house, and burning Orange. However, Pear was outside jogging, and Midget Apple had escaped the kitchen with Grandpa Lemon on his motorcycle. Marshmallow instantly returns to his usual self afterward.
Fruity Question of the Day
"What makes you really angry?"
Video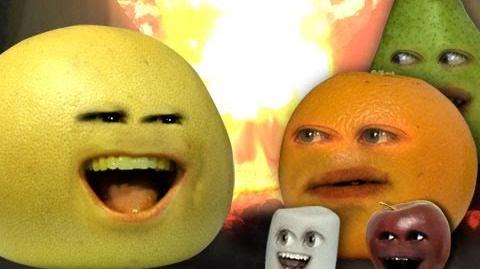 Produced and Directed by Kesley Grammer