"Annoying Orange: Christmas is For Giving"
Episode Christmas is For Giving
Characters:
Orange, Pear, Passion Fruit, Midget Apple, Marshmallow, Grapefruit, Grandpa Lemon, Bees, Moldy Cheese, Beet, Bells, Wreath, Exploding Piece of Pie
Airdate:
November 30, 2012
Episode Guide
Previous
"Kitchen-Mon"
Next
"Annoying Ways To Die"
Christmas is For Giving is a episode of Season 4. In this episode, Orange sings a song about Christmas. He also reveals that a brand-new Christmas album is available, with the song included, as well as the characters singing existing Christmas songs such as Deck the Halls, Jingle Bells, We Wish You A Merry Christmas, and others, as well as a spoof of 'Twas the Night Before Christmas.
Video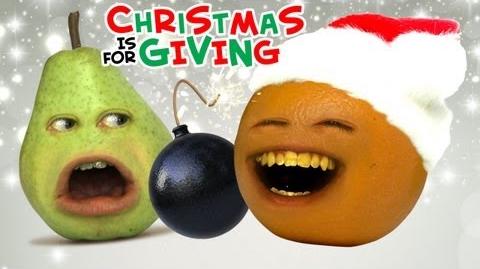 Ad blocker interference detected!
Wikia is a free-to-use site that makes money from advertising. We have a modified experience for viewers using ad blockers

Wikia is not accessible if you've made further modifications. Remove the custom ad blocker rule(s) and the page will load as expected.