Annoying Orange: Close Encounters of the Annoying Kind
Talk

0
1,605pages on
this wiki
Close Encounters of the Annoying Kind is the 37th episode of the Annoying Orange series. This outdoor midnight episode features Pear and Orange being abducted.
Orange
and
Pear
watched stars as a spaceship full of
broccoli
with
an evil ruler
(said as leader (Justin Bieber to Orange) abducted the two and plotted to assassinate them using the
Vivisector 9000
, but instead, accidently killed himself, and then the broccoli minions took Orange as their new leader and Orange creates his face on the moon.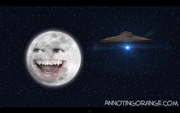 Fruity Question of the Day
Edit
Have you ever seen a UFO?
This Episode sponsored by Take180
Evan Ferrante as Tom Cruise as Broccoli, Electric Spoofaloo, Check out Annoying Orange with Electric Spoofaloo's Evan Ferrante in a New "Not Tom Cruise" Video
Created by Daneboe
Written by Spencer Grove
twitter.com/annoyingorange
facebook.com/annoyingorange