This article may require cleanup to meet Annoying Orange Wiki's quality standards.
Please discuss this issue on the talk page. This article has been tagged since March 2011.
Hey Apple! Outtakes is an episode showing a series of outtakes for The Annoying Orange.
Transcript
Orange: Hey Apple!!! Can you do this? Nyah-nyah-(continues for a really long time).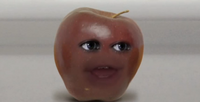 We could really use a little help around here.
This article is a stub. Please help Annoying Orange Wiki by expanding it.
Ad blocker interference detected!
Wikia is a free-to-use site that makes money from advertising. We have a modified experience for viewers using ad blockers

Wikia is not accessible if you've made further modifications. Remove the custom ad blocker rule(s) and the page will load as expected.