"We could really use a "little" help around here."
This article is a stub. Please help Annoying Orange Wiki by expanding it. Thank you!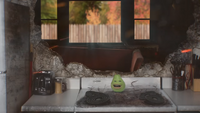 This article may require cleanup to meet Annoying Orange Wiki's quality standards.
Please discuss this issue on the talk page.
The Inifinity Snowball was made in 2013
Plot
Orange goes down without a sled, hits a stone and then turns into a snowball. The snowball became bigger and bigger, until it destroyed the Earth and the Moon.
snowy day. cool
Characters
Orange, Pear, Passion Fruit, Grapefruit, Pine Tree 1, Pine Tree 2, Pine Tree 3, Twine Ball, Little Twine Balls, Kiwi (Inside a car, while the snowball smashes other cars), Green Apple Tour Guide, Chocolate-Frosted Donut, Yule Slice, Cookie, Apple Tour Guide, Cupcake, Sponge Cake, Brownie, Earth, Moon