Annoying Orange: Jalapeño
Talk

1
1,604pages on
this wiki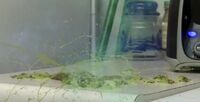 This article may require cleanup to meet Annoying Orange Wiki's quality standards.
Please discuss this issue on the talk page.
Jalapeño is the 56th episode in the Annoying Orange series. This episode features a smooth talking jalapeño pepper and a basket if adoring fruits.
Plot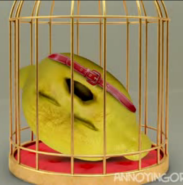 This plot may be too long to accurately summarize the episode.
Please help Annoying Orange Wiki by fixing it, or by discussing this issue. This article has been tagged since March 2011.
The episode begins with Orange trying to talk to the the Fruit Basket, who's busy swooning over Jalapeño. Orange then tries to annoy Jalapeño, but to no avail for he is too cool, calm and collected. The peach asked Jalapeño if he would be interested in a peach, "Of course," he answers smoothly and the girls have a swooning riot. Pear notices this and asks Orange how Jalapeño was able to do it, Orange replies "How am I supposed to Jalapeño," and starts chuckling, Jalapeño said Orange reminds him of someone and the video shows a flashback of a younger version of himself being annoying. Jalapeño requested for Orange to sing. Orange sings, but Jalapeño says he has no talent, but he has passion. Orange and Pear say its just citrus and then, Jalapeño teaches Orange how to sing, the Fruit Basket start swooning again Jalapeño asked for request and then got knifed. He was still able to talk and said inspirational and wise quotes, which Orange thanked him for.
Gallery
Fruity Question Of The Day
Who's hotter than Jalapeño?
Leave your answer in the comments!
Credits
James Caan Chairman of http://www.Openfilm.com, more known as a famous actor as Jalapeño
Shira Lazar as Peach
Created by Daneboe
Written by Spencer Grove
twitter.com/annoyingorange
facebook.com/annoyingorange
Video