Annoying Orange: Lady Pasta
Comments

18
1,601pages on
this wiki
Lady Pasta
is the 33rd episode of the Annoying Orange series.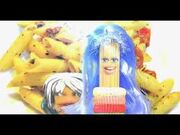 This episode features
Lady Pasta
, a parody of the real world popstar Lady Gaga.
Orange
was singing to himself when
Dane Boedigheimer
put
Lady Pasta
on the counter. Orange asked her why she was dressed like a fancy person, and she told Orange she was an artist. Orange was originally confused until Lady Pasta demonstrates with a song, which sounds like a parody of Lady Gaga's Bad Romance. Orange then started annoying her by making fun of her singing pasta puns. Lady Pasta then starts to lose it and asked to be put out of her misery. Coincidentally, Boedigheimer picked

her up right after she said it and was
boiled
alive with her trying to correct what she said.