Annoying Orange: Million Clones
Comments

7
1,601pages on
this wiki
Million Clones is the 36th episode of the Annoying Orange. This episode features Orange getting cloned a million times.
One million people have subscribed to Orange's YouTube Channel. To celebrate, Orange gets cloned one-million times, all of them growing annoying, regardless of Pear asking the voice to stop.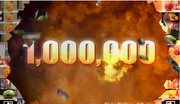 Many Orange Clones moved in many scenes in this episode for some unknown reason.
Fruity Question of the Day
Edit
Which of the past characters would you love to see in another episode?
Thank you! To all our Fans! You Rock! If You Haven't Subscribed yet, click here! :)
Created by Daneboe
Written by Spencer Grove
twitter.com/annoyingorange
facebook.com/annoyingorange