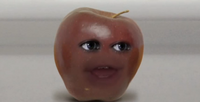 We could really use a little help around here.
This article is a stub. Please help Annoying Orange Wiki by expanding it.
Annoying Orange: Muddy Buddy is the sixteenth episode in the Annoying Orange series. This episode features a potato.
Plot
Orange and Pear are enjoying some socializing on the counter, when Mystery Potato Man is brought in. Orange is amazed because he has never seen him before. Orange then starts his antics, and in the process, Mystery Potato Man insults an innocent bystanding carrot. Shortly after, Orange says "potato peeler" and Mystery Potato Man is peeled in a Happy Tree Friends-style fashion by the sharp blade. Orange and Pear reconcile the nearby offended Carrot, in which Orange proceeds to blow a really loud horn in his face.
Fruity Question of the Day
What food annoys you the most?
Video
Ad blocker interference detected!
Wikia is a free-to-use site that makes money from advertising. We have a modified experience for viewers using ad blockers

Wikia is not accessible if you've made further modifications. Remove the custom ad blocker rule(s) and the page will load as expected.