Annoying Orange: Orange After Dentist
Comments

4
1,601pages on
this wiki
Orange After Dentist is the 49th episode of Annoying Orange series and the first of five Thanksgiving Viral Video episodes. It is a parody of the famous viral video called David After Dentist.
After a dentist visit, Orange is dizzy because of the medication he took that got his teeth whitened. He sits in a car, while Pear is talking with him. At the end, Pear gets hit by an airbag.
The entire special plays out like David After Dentist except that Pear is hit by an airbag which prung after Orange said "Airbag".
Fruity questions of the day
Edit
Is this real life?
Leave your answer in the comments!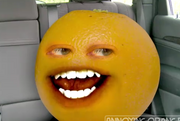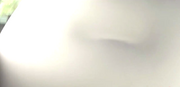 Watch the Original David After Dentist
Created by Daneboe
Written by Spencer Grove
twitter.com/annoyingorange
facebook.com/annoyingorange
Annoying Orange viral video spoofs
1st Viral video contest
Orange After Dentist (David after Dentist) • Kitchen Intruder (Bed Intruder) (Full Version) • Sneezing Marshmallow (Sneezing Baby Panda) • Annoying Orange meets Charlie the Unicorn (Charlie the Unicorn) • Equals Annoying Orange (Equals Three)
2nd Viral video contest
Party Rock (ft. DeStorm) • Epic Peel Time • Epic Rap Battles of Kitchenry • GO. BWAAH! • Talking Twin Baby Oranges • Fry-day
3rd Viral video contest
TBA (Justin Bieber's Baby, will be released on November 19, 2012) • TBA (LMFAO's I'm Sexy And I Know It, will be released on November 20, 2012) • TBA (Unk's Walk It Out, will be released on November 21, 2012) • TBA (Pitbull ft. T-Pain's Shake Senorita, will be released on November 22, 2012) • TBA (Untamed and Uncut - Python Bites Child, will be released on November 22, 2012) • TBA (Miranda Cosgrove's Raining Sunshine, will be released on November 23, 2012)