Annoying Orange: Orange Goes Hollywood
Talk

0
1,608pages on
this wiki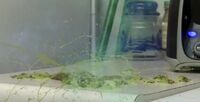 This article may require cleanup to meet Annoying Orange Wiki's quality standards.
Please discuss this issue on the talk page.
Annoying Orange: Orange Goes Hollywood is the 88th episode of Annoying Orange.
2 corn cobs come to the kitchen to make Orange a star. They make him change himself, by putting on a wig that looks like Justin Bieber's hair, using a Cockney accent, and putting on a pair of sunglasses. Pear eventually thought this was bad, so he tells Orange that everyone has flaws, but it makes them special, but the corn cobs think otherwise. Then they get their faces buttered.