Annoying Orange: Pain-apple
Talk

0
1,608pages on
this wiki
Pain-apple is the twenty-first episode in the Annoying Orange series. This short episode features a pineapple.
The episode begins with Orange trying to think what rhymes with Orange. Later, Pineapple arrives, when Orange heard Pineapple's name, he thought it meant an apple, but Pineapple corrects him. Orange then annoyed him by saying more rhyming words until Pineapple gets very angry. When Orange tried to get Pineapple's attention again, Pineapple refuses to talk to him, and gets cut up by Knife, with his "hair" flying on Orange's head.
Not long after, Pineapple returns as three
pineapple rings
, and Orange continued to annoy him.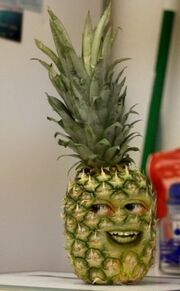 Fruity Question of the Day
Edit
What's your favorite Orange quotes?
Created by Dane Boedigheimer
Written by Zackscott
twitter.com/annoyingorange
facebook.com/annoyingorange