Annoying Orange: Previously On
Comments

3
1,601pages on
this wiki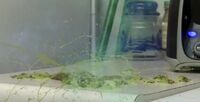 This article may require cleanup to meet Annoying Orange Wiki's quality standards.
Please discuss this issue on the talk page.
"Annoying Orange: Previously On"
Episode 89

Characters:
Orange, Pear, Midget Apple, Marshmallow, Kool Aide Man, Freddie Wong, Brandon Laatsch, Grapefruit, Passion Fruit, Grandpa Lemon, Liam the Leprechaun, Trolls, Tangerine, Michael Buckley
Airdate:
August 5, 2011
Episode Guide
Previous
"Orange Goes Hollywood"
Next
"In the Dark"
Previously On is the eighty-ninth episode of Annoying Orange and the thirty-second episode of Season 3.
The episode begins with Midget Apple's voice saying, "Previously on The Annoying Orange."