"Annoying Orange: Snack Attack!"
Episode 198
Characters:
Orange, Pear, Midget Apple, Red Chili Juice, Tangerine Juice, Ube Cupcake Juice, Milk Juice, Lawn Juice, Night Juice, Prune Juice, Kool-Aide
Airdate:
May 24, 2013
Episode Guide
Previous
"Honey I Shrunk the Fruits"
Next
"Monster Truck"
Snack Attack! is an episode of Season 5. Orange, Pear and Midget Apple are with some cool drinks at a baseball game, and they meet Prune Juice, voiced by the British chef Jamie Oliver, who is sad of not being picked by the people despite being healthy.
Fruity Question of the Day
What's your favorite snack when you have a snack attack?
Video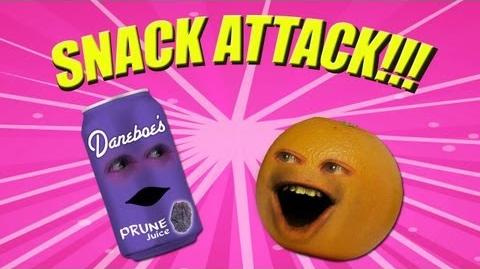 Ad blocker interference detected!
Wikia is a free-to-use site that makes money from advertising. We have a modified experience for viewers using ad blockers

Wikia is not accessible if you've made further modifications. Remove the custom ad blocker rule(s) and the page will load as expected.