Annoying Orange: The Sitcom
Comments

3
1,601pages on
this wiki
The Sitcom is the 38th episode in the Annoying Orange series. This special sitcom features Pepper. This is the first sitcom episode which will be followed by the sitcom version of Annoying Valentines, Fortune Cookie, Juice Boxing, and The Voodoo You Do!.
Pepper and Orange are playing cards and Pepper has a bet on the game of cards which is: If Orange loses, he has to admit his true feelings to Passion Fruit. In the meanwhile, Pear is watching Twilight on the TV. Passion Fruit was out shopping for earrings and came back when Orange lost. Pepper ended up being knifed letting Orange off the hook.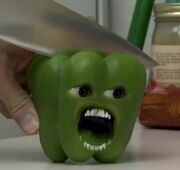 Fruity Question of the Day
Edit
What is your favorite sitcom of all time?
Joe Bereta as Pepper
Dane Boedigheimer as Orange and Pear
Created by Daneboe
Written by Daneboe and Spencer Grove