Annoying Orange: 1 BILLION KILLS!
Talk

0
1,608pages on
this wiki
1 Billion Kills is a collection of deaths of the Annoying Orange series from Season 1 to Season 3. The deaths are from Annoying Orange to Nutcracker. Many of the characters from seasons 1 to 3 have made short cameos showing their deaths.
After the flashbacks, Dane Boedigheimer and Orange were there to thank the AO fans to hit 1 billion views, and at the end, Dane was attacked by Killer Broccoli.
Fruity Question of the day:
What is your favorite kill from the series?! Leave your answer in the comments!
The list in this order:
Characters Killed: Too many to count
KNIFE scenes: Over 51
Characters Exploded: 13
Characters Killed by Falling Objects: 20
Characters Eaten by animals: 9
Times Liam has been killed: 4
Characters Killed by Godzilla: 1
Characters seen killed in video/moments happened in order
Edit
Maize (and the rest of the gang)
Midget Apple (failed, as he was disgused as Orange)
Dawn (as a princess)
Other Gladiator
Strawberry with electric guitar
Grapefruit (Best Friend Forever!)
Liam the Leprehaun (Food Court)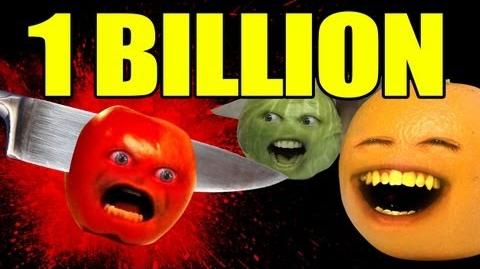 The character's cameos in video by their order
Edit
Note: This gallery is incomplete.