Annoying Orange Meets Tom Cruise
is a special spin-off episode of
The Annoying Orange
.
Transcript
Okay, maybe my Latin's a little rusty.
This transcript is incomplete and/or has many significant errors. Please help Annoying Orange Wiki by fixing it, or by discussing this issue. This article has been tagged since 23/05/11.
Orange
: Hey! Hey Tom, what is the flavor of the sky? Is it vanilla? (Laughing)
Annoucer: WARNING!
Tom Cruise: Tom a rock-o-full!
Orange: Hey Tom Cruise!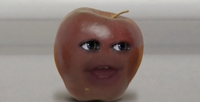 We could really use a little help around here.
This article is a stub. Please help Annoying Orange Wiki by expanding it.
Ad blocker interference detected!
Wikia is a free-to-use site that makes money from advertising. We have a modified experience for viewers using ad blockers

Wikia is not accessible if you've made further modifications. Remove the custom ad blocker rule(s) and the page will load as expected.