Annoying Orange: Wazzup!
Talk

5
1,608pages on
this wiki
Wazzup! is the ninth episode in the Annoying Orange series. This is the first epsiode in a series of Wazzup episodes. As of today, it is the most viewed on Youtube with over 38 million views, if not counting Hey Apple!, with over 40 million, because it's not from Orange's channel; it's on Dane Boedigheimer's channel instead.
Plot
Orange
and his friends constantly shout "Wazzup!" until
Apple
gets halved by
knife
. This is the first spoof of a Budweiser commercial.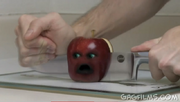 Fruity Question of the Day
If you could pick me in any movie, what movie would you put me in? And why?
Leave your answer in the comments!
Video