Annoying Orange meets Charlie the Unicorn
Talk

1
1,608pages on
this wiki
Annoying Orange meets Charlie the Unicorn is the fifty-second episode overall, and the fourth out of the five Thanksgiving viral videos. It is a spoof of the video Charlie the Unicorn by SecretAgentBob.
Plot
Orange, Marshmallow, Midget Apple, and Pear try to get Charlie the Unicorn to take them to see the rainbow. They end up on a crackety bridge, and because of Pear's and Midget Apple's suitcases, they all fell. The fruits were unharmed because of the parachutes inside the suitcases. Charlie, however, ended up with a broken leg. When they finally saw the two pots of gold, they encounter Liam the Leprechaun, claiming that those are his pots of gold. After a little while, Knife impales Charlie's remaining kidney (his other one was stolen in charlies own series).
Fruity question of the day
What would you do with a pot of gold?
Credits
Watch the Original Charile the Unicorn
Artwork by Cyber Cartoon
Subscribe to Leprechaun
Created by Daneboe
Written by
Daneboe
and
Spencer Grove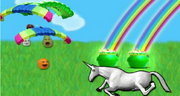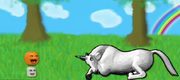 Video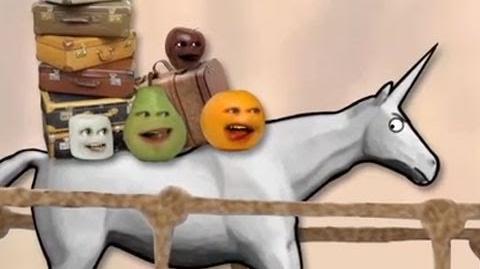 Annoying Orange viral video spoofs
1st Viral video contest
Orange After Dentist (David after Dentist) • Kitchen Intruder (Bed Intruder) (Full Version) • Sneezing Marshmallow (Sneezing Baby Panda) • Annoying Orange meets Charlie the Unicorn (Charlie the Unicorn) • Equals Annoying Orange (Equals Three)
2nd Viral video contest
Party Rock (ft. DeStorm) • Epic Peel Time • Epic Rap Battles of Kitchenry • GO. BWAAH! • Talking Twin Baby Oranges • Fry-day
3rd Viral video contest
TBA (Justin Bieber's Baby, will be released on November 19, 2012) • TBA (LMFAO's I'm Sexy And I Know It, will be released on November 20, 2012) • TBA (Unk's Walk It Out, will be released on November 21, 2012) • TBA (Pitbull ft. T-Pain's Shake Senorita, will be released on November 22, 2012) • TBA (Untamed and Uncut - Python Bites Child, will be released on November 22, 2012) • TBA (Miranda Cosgrove's Raining Sunshine, will be released on November 23, 2012)