Bananas (Exploding Orange)
Talk

0
1,608pages on
this wiki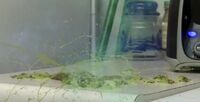 This article may require cleanup to meet Annoying Orange Wiki's quality standards.
Please discuss this issue on the talk page.
The bananas appeared in The Exploding Orange as new friends of Orange until they're eaten by a gorilla. They are played by Smosh: Anthony Padilla as the left banana and Ian Hecox as the right banana. They still appear as cameos in episodes.
Death: The newspaper says that a gorilla escaped the zoo,meaning that the bananas would have more danger, until they got eaten by the gorilla
Personality They are both relaxed but they are very rarely arrogant and selfish, unil after their death. It is known that they are similar.they also do make friends, in exploding orange, they started to make friends with orange, although they are easily irritated or annoyed by orange