Bill the Apple
Comments

0
1,601pages on
this wiki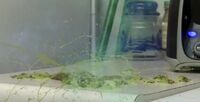 This article may require cleanup to meet Annoying Orange Wiki's quality standards.
Please discuss this issue on the talk page.
Bill was a Voodoo apple and one of the antagonists of The Voodoo You Do!. He was responsible for Orange getting stuck as the Voodoo Doll. Jack and Andy usually get mad at him.