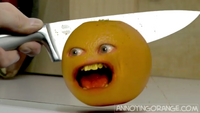 This article has multiple issues.
Please help
improve it
or discuss these issues on the
talk page
.
It may require cleanup to meet Annoying Orange Wiki's quality standards. Tagged since July 2011.
It may contain significant multiple spelling and grammar errors. Tagged since July 2011.
Blender is a murder weapon that first appeared in TOE-MAY-TOE. The blender was used to blend Tomato into Ketchup, "killing" him in the process and offering Orange the chance for puns. Blender was the last murder weapon to appear in Season 1, and was the second murder weapon introduced to the series.
Blender re-appeared in Kitchen Carnage and was used to kill both of the kiwis and Blueberries and Raspberries for the smoothie.
Blender reappeared in He Will Mock You and was used to kill Banana, Coconut and Lime.
In the video game Kitchen Carnage, there are red blenders that are one of the several goal points for fruits shot off a chopping board. In The Fruitrix, Blender re-appeared with a face.
Characters killed
Edit
The blender didn't appear in Season 2.
The blender is the second form of death in the series, the first being Knife.