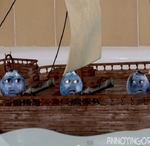 The
Blueberries
were
Cap'n Blueberry Beard's
crew members in the episode
Naval Orange
.
Quotes
"Oh no, here we go!"
"Captain, it's a... it's a..."
It's a... it's a... whirlpool!"
"Aaahhhh!"
"Uh... sorry, sir. I thought you said "fire"."
"Come on, buddy!"
"Sir, it really sounds a lot like "fire"!"
"Yaahahay!"
Ad blocker interference detected!
Wikia is a free-to-use site that makes money from advertising. We have a modified experience for viewers using ad blockers

Wikia is not accessible if you've made further modifications. Remove the custom ad blocker rule(s) and the page will load as expected.