Coconut
Talk

0
1,608pages on
this wiki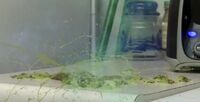 This article may require cleanup to meet Annoying Orange Wiki's quality standards.
Please discuss this issue on the talk page.
Coconut is the main antagonist of the only episode Kung Fruit. He is a master of Kung Fruit who wants to be the king of the kitchen, but failed, as Orange stopped him, and Coconut was violently stabbed to death by Knife.
Personality
Coconut is a really arrogant, selfish tyrant who talks in a monolougue.
Biography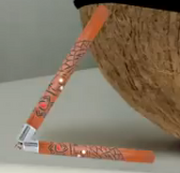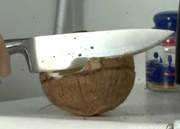 Coconut is very skilled in Kung Fruit (a parody of Kung Fu) and is the mortal enemy of
Ninja Fruit
. Coconut wanted control of the kitchen, so he took down everyone in the kitchen and took control for a little while, making
Grapefruit
a jester and everyone else except
Orange
his prisoners. Finally, Orange gets the help of
Knife
and eliminates Coconut, saving the kitchen from Coconut's control.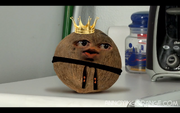 Trivia
Oddly, when he is attacking the others, one of his belt's ribbons changed the words printed on it to KARATE.