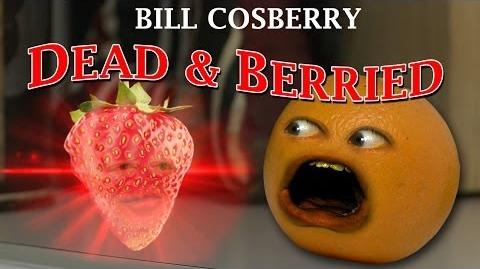 characters- bill cosberry, bill cosberry soul, apple ,nektarine, midget applle, orange ,onion. airdate -11 october 2013 epizode guide - unknow .dead and berried is the one of episodes of annoying orange series.
plot
the epizode starts with Orange alone who very bored and turning on and of the light then midget apple appearing and asking Orange stop doing that . he says that he afraid of dark . then mystery ghost of strawberry appearing and Orange immideatly start to annoy him then ghost killed jello midget apple and Orange start to scream but Orange countine to annoy him and ghost drop him into the wastebasket . there Orange meet Onion Bill Cosberry the strawberry nektarine and apple who was knifed and droped into the wastebacket then Bill cosberry told him that he is a ghost Orange start to annoy all knifed food Onion asked bill cosberry why he drop this (Orange) into the wastebacket . bill cousberry drop Orange out of the wastebacket midget apple says - orange you did it ! the ghost isnt back ! in the and of epizode we can see the mayonnaise s soul help grapefruit macking a clay jar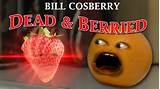 the fruity question of the day
what s your favorite gibberish line?
CREDITS
crevin bruek as bill cosberry 
crew- 
created by- daneboe
edited by- matt sklar
writen by - spencer grover 
animated by- steven zurita
Ad blocker interference detected!
Wikia is a free-to-use site that makes money from advertising. We have a modified experience for viewers using ad blockers

Wikia is not accessible if you've made further modifications. Remove the custom ad blocker rule(s) and the page will load as expected.