Dough (later known as Loaf, and then as Heel) was a character who only appeared in Rolling in the Dough. He was seen being annoyed by Orange through the entire process of baking bread, in addition being toasted.
Forms
Dough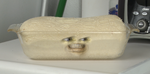 Dough first appeared in the beginning of the episode being dropped on a wooden cutting board. He was seen being annoyed by
Orange
and being mistaken for Jabba the Hutt until he was flattened by a rolling pin, put in a bread pan, and baked.
Loaf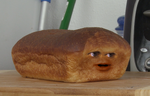 Dough had emerged out of the oven as a loaf of bread on the same cutting board. He was seen in a much better mood talking to Orange and befriending him. However, Loaf's pleasure didn't last long as he was sliced by a
bread knife
and put into the
toaster
.
Heel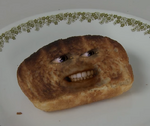 Loaf had returned as a heel of toast on a plate ready to be eaten by
Dane Boedigheimer
.
Butter
was seen being knifed by a
butter knife
and then being smeared on Heel immediately after. Heel is then knifed and taken away to be eaten.