Dough was a character who only appeared in Rolling in the Dough. He was the first stage of Dough. After being annoyed and called, "Jabba the Hutt" by Orange, he was flattened by a rolling pin then placed inside a baking tin into the oven, where he was turned into Loaf.
He, like all the dough characters, was played by Toby Turner.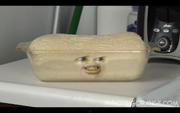 "Jabba the... what now? No I-I think you're...."
"(sigh) I think I pulled a muscle in there."
"What? What?"
"Oh, would you just shut up?"
"Hey can it, fruit for brains!!"
"Of course I have. It's no use, I'm stuck."
"I am greased in butter."
"This is the worst day ever!!!"
"That didn't sound like nothing."
"HOOOOOOOOOOOOOT!!! It's hot!"
Dough/Loaf/Heel is first character Tobuscus has played since Cheese.