7th episode of the TV show.
Dr. Strange Plum
[[1]]
Episode 7 of TV show

Characters :

Toby,Little Apple,Prof. Plum,Orange,Pear,Marshmellow,Passion Fruit,Grape Fruit,Grandpa Lemon

Air Date :

July 30 2012

Episode Refernce :

Clue
PLOT
The gang attend a dinner at a mysterious mansion and soon realize they may be on the menu.Can Orange slove the case before he dies?
GALLERY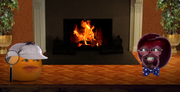 Ad blocker interference detected!
Wikia is a free-to-use site that makes money from advertising. We have a modified experience for viewers using ad blockers

Wikia is not accessible if you've made further modifications. Remove the custom ad blocker rule(s) and the page will load as expected.