Egg Roll was a character who only appeared in Fortune Cookie. He is one of the few characters who appeared on top of a maroon plate. Usually, a character will be placed directly on top of the counter. Egg Roll makes a few seconds of showtime, with Orange telling him jokes. Egg Roll was then taken away and eaten by Dane Boedigheimer off screen revealing Fortune Cookie behind him. He was played by Robert Jennings.
Quotes
"I don't know, why?"
"Yeah, like I haven't heard that before."
"Whoa, hey, what's going on?" (screams while being eaten)
Trivia
His death wasn't accompanied by drama, because it was not long before Fortune Cookie appeared.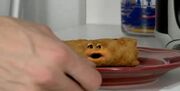 Ad blocker interference detected!
Wikia is a free-to-use site that makes money from advertising. We have a modified experience for viewers using ad blockers

Wikia is not accessible if you've made further modifications. Remove the custom ad blocker rule(s) and the page will load as expected.