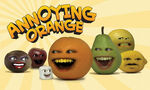 The web-based series
The Annoying Orange
aired it's
pilot episode
on the 9th of October in 2009. Since then, it has released over 500 episodes divided into 7 seasons (this includes all 60 of the television episodes). The series has been running for over 5 years, and is currently still running. All summaries are transcribed
exactly
as they are in the original descriptions, without any spelling or grammatical fixes. Each season airs over the coarse of one year (excluding season 1, which only ran from October to December of 2009).
Episodes
Ad blocker interference detected!
Wikia is a free-to-use site that makes money from advertising. We have a modified experience for viewers using ad blockers

Wikia is not accessible if you've made further modifications. Remove the custom ad blocker rule(s) and the page will load as expected.