Sunflowers
Talk

0
1,608pages on
this wiki
Redirected from Flowers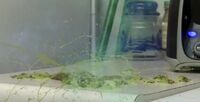 This article may require cleanup to meet Annoying Orange Wiki's quality standards.
Please discuss this issue on the talk page.
Flowers were characters who first appeared in Flower Power!.
They were depicted as anthropomorphic sunflowers. The flower that was Orange's "victim" was put on the windowsill where Orange was, greatly irritating him as he was trying to tan. After a while, Orange began annoying Flower, who was cut, giving Orange his sun back. However this was short lived, as Flower came back in a vase. However, he was killed by a swarm of bees seconds after.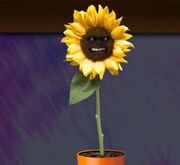 Two other flowers appeared in a field, being attacked by a bee. One of the flowers watched as the other got his eye ripped out by the bee, who soon started on him.

Trivis
Flower may be called sunflower because he is one or because he's blocking orange's veiw.