Fred Goes Grocery Shopping is an Annoying Orange crossover with FRED. Fred's mom lets him go shopping. He causes chaos in the shopping centre. He sees Orange in the fruit department. Orange then tells Fred a joke wich makes him angry. After that, Fred goes to the clerk who tells him that the things he bought costs a lot of money in total.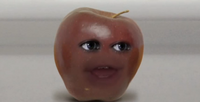 We could really use a little help around here.
This article is a stub. Please help Annoying Orange Wiki by expanding it.
Ad blocker interference detected!
Wikia is a free-to-use site that makes money from advertising. We have a modified experience for viewers using ad blockers

Wikia is not accessible if you've made further modifications. Remove the custom ad blocker rule(s) and the page will load as expected.