Grandpa Lemon's motorcycle
Talk

0
1,608pages on
this wiki
Grandpa Lemon's motorcycle
is a motorcycle that
Grandpa Lemon
owns. It appeared in
Rap-berry
,
Best Fiends Forever
,
YouTubers
,
Trollin
,
Fry-day
,
GO. BWAAH!
, 1 BILLION KILLS! and
Bacon Invaders
. It is one of the few vehicles in the series. Orange and Midget Apple were the only other ones to ride with Grandpa Lemon.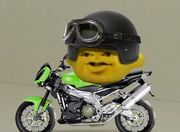 ...
Rap-berry
Grandpa Lemon used his trendy motorcycle to jump through the Fiery Hoops of Freedom, because he wanted to do something cool to survive. He successfully jumped through the hoops, but fell asleep upon landing.
Best Fiends Forever
Grandpa Lemon appeared on his motorcycle to pick up
Midget Apple
before
Marshmallow
go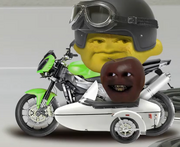 t angry. He drove the motorcycle outside
Dane Boedigheimer
's house, and when the motorcycle stopped, he fell asleep.
Trivia
The motorcycle had a side cart in Best Fiends Forever.
Midget Apple is the only other main character to have a vechicle that appears in the episodes several times.
Grandpa Lemon starts it by yelling, "Geromino!" and doing a wheelie.
As hinted on his Facebook page, Grandpa Lemon used this motorcycle during his career long before the series began.
In GO. BWAAH! Orange rides behind Grandpa Lemon instead of the 2nd seater that Midget Apple road in. Also, Grandpa Lemon didn't yell, "Geromino!"