Granny Smith
Comments

0
1,601pages on
this wiki
Granny Smith is an elderly female apple who only appeared in Teenage Mutant Ninja Apples.
Biography
Granny Smith appeared to be very lonely and wanted a kiss (in return for a dollar) and a hug. At the end of the episode, after being turned into part of an apple pie, she asked if anyone wanted some prune juice. It's unknown if anybody said yes to the juice.
Briefly, she acts like a normal grandmother.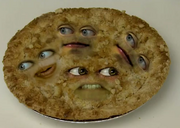 Characterization
Granny Smith seems to be very lonely, and she seems unintelligent on the surface. She asks other fruits for lots of hugs and kisses. She is one of the elder fruits of the kitchen, but she doesn't show any symptoms of narcolepcy and amnesia like Grandpa Lemon.
Trivia
She is the third elderly character in the series, second being Grandpa Lemon and first being Grapefruit's Grandpa.
She also is the second character not screaming while being cut by Knife, first being Grandpa Lemon.
She is the first elderly female character to appear so far.
She is a Granny Smith apple, which is taking the term literally.
Quotes
"Come here and give me a kiss! I've got a dollar."
"Where's my hug?"
"Who wants some prune juice?"