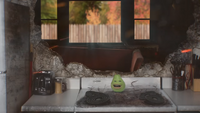 This article may require cleanup to meet Annoying Orange Wiki's quality standards.
Please discuss this issue on the talk page.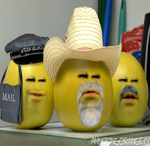 Grapefruit's Family
is the family of
Grapefruit
. Out of all of the families in the series, Grapefruit has the largest family besides
Grandpa Lemon
. (
Grapefruit's Mailman
doesn't count as he is not related to Grapefruit). The most notable grapefruit is
Grapefruit
 (a main character). Of them all, Grapefruit's First Cousin, twice removed, was the only member of Grapefruit's family to be mentioned, but not seen. It was also revealed in
Hungry Fruit Games
that he had another nephew.
Noted Members
Family Tree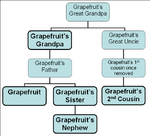 This chart shows the family members mentioned in the show (shown in bold font and outline) and the family members that have to exist for the family members mentioned in the show to have a logical family (shown in normal font and outline). Please note that the family tree could be improper. However, since little information has been given on exactly how certain characters are related to Grapefruit, this is the best possible.
Trivia
Grapefruit was said to have a cousin, meaning it might be Grapefruit's first cousin once removed, but this is not counted in the Grapefruit family as this is a different fruit, and little is known about him.