Kitchen Carnage
Comments

9
1,601pages on
this wiki
Kitchen Carnage



Developer

Bottle Rocket Apps

Platform

iPhone, iPad, iPod Touch, Android

Publisher

Thruster

Release date

April 7, 2011 (iPod Touch and iPhone)
May 6, 2011 (iPad, HD)
October 14, 2011 (Android)
March 2, 2012 (Lite verison)

Genre

Arcade / Action
Kitchen Carnage
is a video game for iPhone, iPad, iPod Touch, and Android based on
The Annoying Orange
. It was released along with the
episode of the same name
on April 7, 2011.
[1]

One day after the game's release, on April 8, 2011, Dane Boedigheimer, the creator of the series, reported that the game was climbing the charts in a quick manner, and if that they could get Orange near the #1 app of iTunes, they would pick ten lucky people to win a free iPad 2. The Baba version was released March 20, 2012.[2] On October 14, 2011, along with the release of the episode Microwave Effect, the game was released for Android devices on the Amazon Appstore. [3] On March 2, 2012, along with the release of the episode Annoying Orange vs. Mortal Kombat, a lite version of the game was released.
The game was treated with extremely positive reviews, most of which were five out of five stars. The game can be bought for $0.99 in the United States from the iTunes Store, and 69p for the United Kingdom.[4] The game was advertised in the credits of the episode April Fruits Day, and a special advertisement was filmed for the game.
Gameplay
The object of the game is to throw various produce items across the kitchen and land them in a series of blenders before time runs out. The player is given apples and bananas to begin the game. When the second level is reached, tomatoes are added, while Level 3 adds cantaloupes, Level 4 adds pineapples, Level 5 adds strawberries, and Level 6 adds Figglecorns. At various moments in the game, a player can earn bonus points by tossing a piece of produce onto a cutting board, where Knife will cut them, or into an exhaust fan, and can also earn extra bonus time by throwing a particular fruit into a cabinet. Also, Squash has been introduced in the later versions. For the new Christmas update for 2012, Balloon Pop mode is now available for free, and Mistletoe conjures up a special treat for the holiday season.
Known characters in the game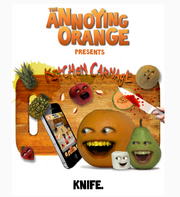 Quotes
Orange
"Hey! You're an iPod!"
"Hey! You're an iPad!"
"Hey! You're an iPhone!"
"Hey! You're an Android!"
"Hey! You're an Bada!"
"Ready.....set......GO!
"Oh my, god!"
"Eeewwwww...."
"Ouch! That look like it hurts!"
"Geez! It really blends in! (laughs)"
"Whoa! Look's like that's a rap! (laughs)"
"Whoo-hoo, way to concerntrate. (laughs)"
"Nice shot!"
"Bank shot!"
"MEGA BONUS!"
"Yaaaaayyyyyyy!"
"Yay! Balloon Bonus!"
"Holiday Bonus!"
"Those shamrocks are crazy, but St. Patrick's Day is March 17th. (laughs)"
"Yay! Bonus time!"
"Hey, the microwave is open!"
"Level up!"
"Aw, I can do better than that, and I don't have hands. (laughs)"
"Hey, not bad! For an apple.... (laughs)"
"Whoa! You're a super fruit slinger!"
"Whoa! New high score!!"
"Pear-p-p-pear-p-pear-p-pear-Pear!"
"Hey, it's fluffy face!"
"Wakey, wakey, Grandpa Lemon!"
"Passion Fruit? More like Passion Cute."
"Hey, it's mini munchkin apple!"
"Uh-oh, it's Chubby McChubby Orange! (laughs)"
"Hey, you're an apple!"
"What's wrong, Banana? You don't look like you're peeling very well. (laughs)"
"Hey, look! It's TOE-MAY-TOE! (laughs)"
"Hey, hey Soccer Ball!"
"Hey, Pineapple! Quite a long face. (laughs)"
"Hey, who wants a Strawberry Dakery?"
"Whoa! Talk about an earache! (laughs)"
"Whoa! Not quite, such as a shamrock! (laughs)"
"Whoa! It's rapberry! (beatboxing and laughs)"
"Hey, don't be such a fruitcake! (laughs)"
"Hey, It's a Shooting Star!"
Pear
"Hey! I was taking a nap in here!"
"Whoa! What's going on out there?"
Marshmallow
"Yay! I love unicorns!"
"I love rainbows, and unicorns, and puppies, and kittens, and rainbows, and puppies!"
Grandpa Lemon
"H-hey, Where am I?"
"Well, this spot isn't as comfortable as the davenport."
Passion Fruit
"Hey! I'm trying to sleep over here!!"
"Oh, my God! What's going on here!?"
"Whoa. Hey, how's it going?"
Midget Apple
"THAT'S LITTLE APPLE!!!"
"Hey, no size jokes!"
"Little Apple, living large."
Grapefruit
"Yo, zip the lip, Onion Dip!"
"Oh, What? You got an extra energy bar?!"
"Looks like someone's droozin....and cruisin!"
Apple
"Hey, wipe that smile off your face!"
"Hey, would you mind trading spots with me?"
"Please, leave me alone!"
"AAAHHHH!"
Banana
"Yo, what's up, bud!"
"Hey, watch the peel, dude!"
"All right, look's like the kitchen party!"
"WHOOOOOOA!"
Tomato
"I'm a fruit, not a vegetable!"
"Careful! I bruise easily!"
"Don't even think of calling me an apple."
"AHHHH!"
Cantaloupe's look alike
"Hey, I thought you're cool!"
"I'm the king of the kitchen!"
"Try Cantaloupe for breakfast, instead of cereal!"
"AAAAAAAAAHHHHHHHHHHHH!"
Pineapple
"Yeah, I don't think you should put me here."
"Hey, watch the hair!"
"No! My hair!"
"WHAAAAAHHHH!"
Strawberry
"What's a Strawberry Dakery?!"
"You're strong. Do you work out?"
"It's the last straw.......berry! (laugh)"
"WHAAAAAAAA!"
Fred FiggleCorn
"This game is so corny."
"Creamed corn? What's that?"
"Do you like my husky voice?"
"AAAAAHHHHHHHHH!!"
Red Raspberry
"I'm a frickin' raspberry!"
"Oh, this is so bad!"
"(singing) Oh, the knife be crazy."
"AAAAAAAAAHHHHHHHHHHHH!"
Fruitcake
"Who are you calling a fruitcake? Go away! That's mean!"
"I hope Santa brings me a Justin Bieber doll."
"(singing) It's the most wonderful time of the year."
"AAAAAAAAAHHHHHHHHHHHH!"
Star Fruit
"I'm the star of the show!"
"The Annoying Orange have owned game, starring ME!"
"(singing) Hot wassabi in the night...."
​Shamrock
"What's going on with the luck of the irish?"
(singing) Oh, St. Patty's Day, oh, oh, oh, oh!"
"What's this?"
"AAAAAAAAAAHHHHHHHHHHHHHHHHH!"
Currencies for the game
| | | |
| --- | --- | --- |
| Country | Currency | Cost for the game |
| United States of America | $ | $0.99 |
| Europe | € | €0.79 |
| United Kingdom | £ | £0.69 |
| Canada | $ | $0.99 |
| Japan | ¥ | ¥115 |
| Mexico | $ | $10.00 |
Giveaway
An giveaway was hosted on Twitter in 2012 as a linkshare contest, giving the opportunity to give another Twitter user to spread out the word about the download of the lite version of Kitchen Carnage and the Winners will get a AO T-Shirt and an Annoying Orange Toy.
The winners were announced March 16th via email included with an mobile version of an Marshmallow Wallpaper.
References
External links
Gallery