Kiwi was a minor character who only appeared in Wazzup!. He was seen after Lemon asked Banana where Kiwi was. Then Kiwi got involved in the "Wazzup!". Everyone had fun until Apple got knifed.
Quotes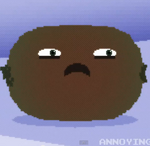 "Yo!"
"Wazuuuuuup!"
"Eeehhhhh!"
"Oooooooooooh!"
Ad blocker interference detected!
Wikia is a free-to-use site that makes money from advertising. We have a modified experience for viewers using ad blockers

Wikia is not accessible if you've made further modifications. Remove the custom ad blocker rule(s) and the page will load as expected.