Lady Pasta
Talk

1
1,604pages on
this wiki
"No, it was just a figure of speech!"-Lady Pasta.
Lady Pasta
Gender
Female
Played by
Lauren from Key of Awesome (song by Sarah from the Gregory Brothers)
Death
Boiled alive (with wig and dress on), Revived, but was Killed again by being crushed by several Tanks, revived again, still alive
First Appearance
Lady Pasta
Lady Pasta was a character who only appeared in her titular episode Lady Pasta. She and her songs are parodies of Lady Gaga.
Personality
Lady Pasta is very arrogant and proud. She boasts about being popular, and seems to look down on people like Orange...
Biography
Orange annoyed her by saying she stuttered in the song she sang, misunderstanding what she meant by art, and making parodies of her singing. In the end, she was put in a pot of boiling water (wig and all) and was boiled alive in the water while gurgling and was most likely eaten.
Before her death. she told Orange she enjoyed making media and had a passion for it and told him that her stuttering was just the way she sings.
Because of his annoyance on her, she then said "Somebody please put me out of my misery!" and, in an ironic twist,
Daneboe
picked her up as she said "No, it was just a figure of speech!" and placed her into a pot of boiling water, where she was boiled alive.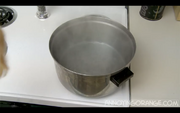 Lady Pasta re-appears in Annoying Orange: Comedy Roast!, where she appears in the audience. She laughs, like the rest of the audience, every time something funny happens. In the end she, along with the rest of the audience, are ran over by tanks filled with Annoying Orange fans and possibly killed again.
Lady Pasta again re-appears in Annoying Orange: The Weenies as the audience. Unlike Comedy Roast, she does not get killed.
Quotes
Main article: Annoying Orange: Lady Pasta
Costumes
Similar to Lady Gaga, Lady Pasta also changed into four costumes throughout singing I'm So Delicious. She has her normal wig, a purple wig and a short blonde wig. Her outfits could be a spoofing of Lady Gaga's many costumes. Orange also changed costumes in every scene.
Trivia
Lady Pasta is the third female character to die in the Annoying Orange series. The second was Granny Smith and the first was Grapefruit's Sister.
Lady Pasta's full song is downloadable on iTunes.

She is the only character to get a song on iTunes.

Her name and song are parodies of the Lady Gaga media.
Her song I'm So Delicious is a parody of Lady Gaga's song, Bad Romance.
Running Gag: While Lady Pasta sings I'm So Delicious, Orange keeps changing his appearance in every scene change by putting on a new wig or mask.
When Orange says "Is that because you've got pa-pa-pa-pa-pasta face?", he is making a reference to Lady Gaga's song, Poker Face.
It is possible her brand was angel hair.
She was the first character to appear in Season 2 that was not portrayed by Dane Boedigheimer.
She is the first food to wear clothes.
Lady Pasta is the first character to have a music video.
She is the first character to change clothes.
She is the first female to have a death not by Knife.
She is killed, but Lady Gaga is still alive.
She was quoted in the Annoying Orange TV series
Video