Lightning
Talk

0
1,608pages on
this wiki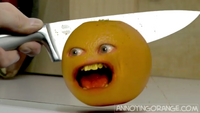 This article has multiple issues.
Please help
improve it
or discuss these issues on the
talk page
.
It may require cleanup to meet Annoying Orange Wiki's quality standards. Tagged since April 2011.
Lightning is a murder weapon that struck Benjamin Franklin. It appeared in Annoying Orange Through Time in 1752, when Benjamin Franklin was doing his kite experiment.
It re-appeared in Fruit for All to kill Apple Trebek after he was sliced, although it could be a different bolt.