Mama Apple is Midget Apple's mother. She seems to care a lot about Midget Apple, who returns the feelings. Unlike Midget Apple, she is an average-sized apple and has grayish hair.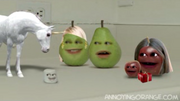 She is the first apple to be shown with hair.
She is the nineteenth apple in the series.
She is the fourth female apple in the series. The first was Granny Smith, the second was Technical Difficulties Apple, and the third was the Green Apple from the Fruit Basket, however she is the second female apple to be red (along with the Technical Difficulties Apple).
It is possible she is old due to her hair being grayish.
If she is old then midget apple is grown up...