Mama Pear
Talk

0
1,604pages on
this wiki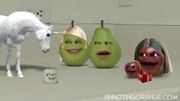 Mama Pear is Pear's mom. She only appeared in Mommy and Me. She looks identical to Pear, except for her blonde hair and Yellow earings.
She is the second pear to appear in the series, first is Pear.
She was silent except for saying "Happy Mother's Day!" with the others and laughing at Midget Apple's joke.
She is the first female pear to appear in the series.
She is the only mom to appear in Mommy and Me to be blonde.
There is a chance she may be the last pear to appear in the Annoying Orange series, unless there will be an episode called Daddy and Me.

She was voiced by a man. It should've been noticed because she sounds like Pear.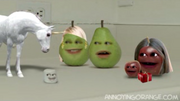 [Category: Character]