Mario
Talk

0
1,608pages on
this wiki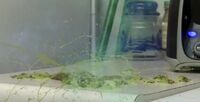 This article may require cleanup to meet Annoying Orange Wiki's quality standards.
Please discuss this issue on the talk page.

Mario (typically called Super Mario in some cultures, full name: Mario Bros) is a fictional character from his own video game series (First appearing in the 1981 game, Donkey Kong) created by video game designer, Shigeru Miyamoto, who appears in his very own episode, Super Mario. He was expecting to fight Bowser, but no one as there, so Mario heads for the Princess Peach and Toad, only for Orange to be blocking the way. Mario tries many times at throwing fireballs at Orange but, he says SpaghettiOs is throwing boogers. On the first fireball thrown, Orange calls hin Mr. Pick 'n Flick. On the second throw, Orange says, "Hey, SpaghettiOs, use a Kleenex already, Geez." Orange burped a koopa Shell at him (causing him to shrink), and then he loses a life after Mario got hit by a Bullet Bill.
Mario appeared again in the episode In the Dark, where he killed Mushroom so he could power up. He was on better terms with Orange then. He saw Frogchair and possibly collected him, turning him into Frog Mario.
Mario and Sonic will appear in a new episode of annoying orange to see spongebob get killed by a knife.
He is the first multiple show video game character.
Also he makes a very short cameo in 1 Billion Kills.

Added by

Kashy Bomber
Dr. Interwebz
•
YouTube
•
Tom Cruise
More Info
Edit
Here is his pageon the Mario Wiki.