Mervin the Watermelon
Comments

0
1,601pages on
this wiki
Mervin the Watermelon
Played by
Richard Ryan
Death
Shot with Spell & Speak's laser
Mervin the Watermelon was a minor character who appeared in Annoying Orange: Meteortron.
Mervin met Orange, Pear, and Midget Apple, but immediately, he was grabbed by Meteortron and threw him to Spell & Speak, who shot a laser at him and caused his death.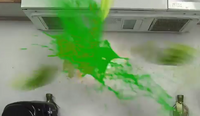 Unlike Watermelon, he appears smaller than a real watermelon and his juice is green instead of red.
He is the second watermelon to appear in the series, the first being Watermelon.
Unlike real watermelons, Mervin the Watermelon seems lighter to lift.