Midget Apple
has a
Monster Truck
, seen in
Wazzup Blowup
on his cell phone screen and
Theme Song Attack
in his theme song during the line "Livin' large is his claim to fame". It was used by Midget Apple to run over a car. It is the first truck in the series and like
Grandpa Lemon
, he is one of the main characters to have a vechicle that appears in the annoying orange episodes several times. It reappeared in
Annoying Orange vs Angry Birds
when, after being shot backwards by the slingshot, Midget Apple uses it to run over the pigs' structure. It then appeared in
Monster Trucked
, running over various monsters.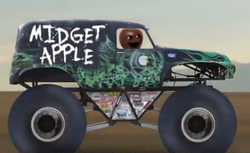 Trivia
It later reappeared in Fry-day. Midget Apple uses it to get to T.G.I. Fry-Day's.
The paint design is a reference to Grave Digger of Monster Jam.
The truck reappeared in Annoying Orange: Monster Truck, and Midget Apple used it to run over all the monsters in the town.
He reappeared as character in Annoying Orange: Fan Boy.
Ad blocker interference detected!
Wikia is a free-to-use site that makes money from advertising. We have a modified experience for viewers using ad blockers

Wikia is not accessible if you've made further modifications. Remove the custom ad blocker rule(s) and the page will load as expected.