Pineapple
Talk

0
1,608pages on
this wiki

Pineapple is a character who appeared in Pain-apple, Frankenfruit as part of Frankenfruit, in Knife's Theme Song in Theme Song Attack!, and in a flashback in It Takes Two to Mango.
Biography
Orange
kept annoying him by making rhymes about his hair and calling him an apple, until Pineapple gets fed up and insults Orange (by calling him "baldy"). He then refuses to talk to Orange because he calls him "Apple" a lot of times until his "hair" gets cut and flies onto Orange's head, and gets sliced very violently. At the end, he becomes
three pineapple rings
, and then blames Orange for what he has done to him.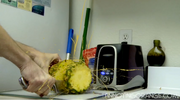 He reappears in Frankenfruit as the torso, but without his trademark hair due to Orange having it, and he did not survive the Halloweenie attack.
Pineapple is played by Zack Scott.
Quotes
"Hey, hey! Watch the hair, bud! It took me months to get it to look like this!"
"Oh hey, i'm a pineapple!"
"Well, I'm not. I'm a pineapple!"
"No, that's not how it works."
"You know what also rhymes with hair? Nair, and it looks like you're very familiar with it, baldy!"
"I am not! I'm a pineapple! I not even related! I don't grow on trees, I

Pineapple in a flashback in It take Two to Mango

Added by

Tariq Rouse

don't-"

Pineapple in the videogame

"(groans) God, you are so irritating!"
"I am not...talking to you."
"I told you already, these are not knives."
"This is my hair."
"I spiked it up to look cool, and it's something that you can't do because you aren't- (screams)"
"Someone help me...".
"Orange, you, are sick."
Trivia
Pineapple's portrayer, Zack Scott, also portrayed Wassabi. However, Pineapple's eyes are different from Wassabi's.
Pineapple is the first character to be sliced by Knife in a violent matter by making effect of his juice.
Pineapple reappeared in It Takes Two to Mango, in a flashback showing him (and other fruits such as Cucumber) being knifed violently.
He is the first pineapple in the series.
See also