Princess Peach
Talk

0
1,608pages on
this wiki
This article is about the character who appears in Super Mario. You may be looking for Peach.
Princess Peach
Gender
Female
Played by
Catrific (Annoying Orange)
Death
None
First Appearance
Super Mario Bros. (1985) (Mario)
Super Mario (Annoying Orange)

Princess Peach is the princess of the Mushroom Kingdom in the Mario series. She only appeared in the crossover episode. Peach was played by Catrific.
Biography
In a chain of a events happening before the episode she appeared in, Princess Peach was very likely kidnapped by Bowser along with Toad. Before the episode, Orange arrived in Bowser's castle, annoyed Bowser until he got angry and left, and hung out with Toad and Peach a little while (and annoyed them as well). Mario showed up, got annoyed, died, and, finally, Bowser kicked Orange, Toad and Peach out of the dungeon, and Peach and Toad most likely returned to her castle after the episode, and Orange returned to the kitchen (not seen but certain).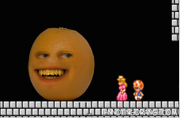 More info

More info about Princess Peach on
Mario Wiki
.