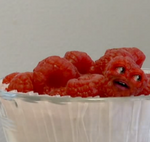 The
Raspberries
were minor characters who only appeared in
Rap-berry
. They were seen in the bowl with
Jim the Raspberry
, trying to persuade
Red the Raspberry
to rejoin the pack.
Quotes
Jim the Raspberry
"Now come on, Red! You can't be serious."
"I'm tellin' you, Red, there's noting outside the pack but danger!"
"Don't you get it, red? You're doomed!"
"Doooomed!"
"Hey there, you folks seen any other berries around here?"
Red the Raspberry
"No, not this time, Jim!"
"There's a great, big, beautiful world out there and I want to be a part of it!"
"Skip it, Jim! I've got my eyes on the future now!"
(sighs)""Doomed", what does he know?"
"Huh, what was that?"
"Oh, oh no!"
"Oh god! This is... this is not happening! This is not happening!"
"Don't talk to me! Don't talk to me!"
"New guy? No! I'm not the new guy! I'm just passin' through!"
"Tell me you're not a pear, you're just a misshapen apple, right? Right?!"
My problem? I'm in the freakin' kitchen! What do you think, I'm an idiot?!"
"Everybody knows about the kitchen. There's this orange, and he's totally annoying..."
"...and he hangs out with his dopey pear..."
"...and a bunch of other fruits!"
"And if you wind up on the wrong side of the counter, you get knifed!"
"Really?!"
"Oh, this is so bad!"
"I'm going to die! I'm going to die!"
"Like what?"
"Uhhhhh..."
"Mmmmmmmmm..."
"This as far as it goes."
"Are you crazy?! I'm not doing that, I'm a freakin' raspberry!"
"No, I'm a raspberry, with an "S"!"
"Stop it! Stop talking to me!"
"What?!"
"What? Wha- what was that?"
"What are you doing?"
(singing)"I was hungry for adventure so I came into the kitchen, chasin' down a dream like a berry on a mission, but then I got introuble, not a little but a lot, trying to save my life on the choppin' block."
"Oh the knife be crazy, the knife be sharp, if I stop for a second I'll be playin' a harp. To stay alive I've got to prove I'm gifted, hit the floor, 'for the knife get's lifted!"
"I- I never knew I could do that! This is amazing!"
"You know, I learned a lot about myself today, I learned a lot about life. But most importantly, I leaned that before you can be true to anyone else, you gotta be true to yourself. I love you guys!"
"Hahahaha."
"Your jokes are the bomb then I'm a nuke!"
"Wanna go toe-to-toe? Duke-to-duke?"
"I'll come to your town and rock your world! Slap you down, son, and steal your girl!"
"I'm Rap-berry, son of a gun! You're just a chump who loves to pun! Woo!"
Ad blocker interference detected!
Wikia is a free-to-use site that makes money from advertising. We have a modified experience for viewers using ad blockers

Wikia is not accessible if you've made further modifications. Remove the custom ad blocker rule(s) and the page will load as expected.