Robert Jennings
Comment

1
1,695pages on
this wiki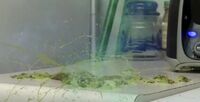 This article may require cleanup to meet Annoying Orange Wiki's quality standards.
Please discuss this issue on the talk page.
Robert Jennings (best known as Bobjenz and also known as Bob Jennings) is a voice actor who has played Grapefruit, Grapefruit's Sister, Grapefruit's Second Cousin, Grapefruit's Grandpa, Grapefruit's Mailman, Liam the Leprechaun, Ginger, Mistletoe, Cantaloupe, Zoom, Egg Roll, Strawberry, Butter, Pineapple, Toaster, Flower, Apple, Spell & Speak, Troll, Andy, Banana (Season 4), Spelling Bee, Mushroom,Boards, and everyone who Orange annoyed in Orange Through Time 3. In the Annoying Orange series, he is one of the most used voice actors. He runs four YouTube channels: Bobjenz, Vlogjenz leprechaun, [[1]] and ZombieGeorgeW.