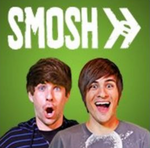 Founders
Ian Andrew Hecox
(born November 30, 1987) and
Anthony Padilla
(born September 16, 1987) are the two stars of
Smosh
, a comedy channel on YouTube. They began posing videos in the fall of 2005, and are currently the most subscribed channel of all time. They played the
two bananas
in
The Exploding Orange
. Their main quote is "Shut up!".
Their late pet guinea pig, Charlie, also appears in Annoying Saw 2: The Annoying Death Trap, where he is voiced by Ian.
They also run a second channel, IanH, later renamed Smosh 2nd Channel, which has 2 weekly series called Ian is Bored and Lunchtime with Smosh.
Orange guest starred in one of their videos HARRY POTTER DELETED SCENES!, a spoof of Harry Potter. Professor Snape cast a spell that made an Orange appear. He picked it up, saw Orange's face and dropped him. Orange keeps making fun of his name and soon starts playing with his wand with his tongue. He accidentally makes Snape disappear and says, "Whoa. I guess Snake had to go somewhere in a snap. Hahahaha!"
You may also see him in a cameo in I LOST MY HAIR! when Anthony is shooting fruit on a table with a gun.
In 2017, Anthony announced he was leaving the Smosh channel to work on building up his long-inactive channel, AnthonyPadilla.
Trivia
They were both born in the same year, two months apart from each other.
Ian and Anthony met in 6th grade science class.
Smosh was actually founded by accident. It occured one day when Anthony and his friends were joking about this "awesome hairy mosh pit", but one of his friends accidentally said "Smosh Pit", and it became a big inside joke. A little while later, that's what they decided to name their YouTube channel.
They were the most suscribed on YouTube, until PewDiePie has taken that spotlight.
Next to Smosh, they have several other channels including IanH and AnthonyPadilla. Weekly episodes are often uploaded on Smosh 2nd Channel, where they do "Ian is Bored", and "Lunchtime w/ Smosh", where either they open mail, or Ian does something extreme suggested by the comments on YouTube, Facebook, Twitter, or MySpace, whereas AnthonyPadilla has been inactive since July 30, 2012. On "Lunchtime w/Smosh", though, they eat lunch and answer Twitter questions asked by their followers. They also used to have a channel called "askcharlie", but it has been currently inactive, since, according to them, Charlie is currently dead, although in a "Lunchtime w/Smosh", episode, they revealed that he is really alive, not really dead, although Ian confirmed his real-life death at VidCon 2015. They also have Smosh Pit Weekly, a show that one of their friends, Mari runs, on IanH. They are also producers of another channel on YouTube called Shut Up! Cartoons. And on September 27, 2012, they decided to launch a gaming channel with 2 videos per day.
Anthony's hair is often made fun of as "emo hair", or "emo flap", whereas Ian's is often made fun of as a Justin Bieber haircut, or a bowl haircut. But in "My New Emo Hair", people actually liked Anthony's haircut.
Their first popular video was a parody where they lip-synced the Pokémon theme, but it was taken down by the creators of Pokémon, claiming copyright. However, they did make a music video paying homage to that one in 2010.
They guest-starred in Ryan Higa's "Agents of Secret Stuff", where Ian was featured as a preverted high school student, and Anthony was featured as a high school wrestler named Bryson.
Ian is often voted amongst fans as the funnier one of the duo, thus making him the more popular one, although Anthony is often favored by fans as "the hot one."
They both share the same age.
Ad blocker interference detected!
Wikia is a free-to-use site that makes money from advertising. We have a modified experience for viewers using ad blockers

Wikia is not accessible if you've made further modifications. Remove the custom ad blocker rule(s) and the page will load as expected.