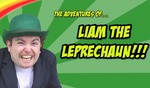 After he created his own YouTube channel, the character Liam the Leprechaun received his own spinoff series, directed by Bobjenz. In this series, Liam is seen as a more incompetent and unskilled leprechaun. However, he is often teased and picked on by his boss, along with an ill-mannered clover. In fact, the clover had stolen Liam's pot of gold (but it is unknown whether or not the boss was aware and possible in on the scheme of if Clover did it just to get Liam into trouble).
The series began on July 8, 2010 and ended on July 19, 2011. It featured older characters from the Annoying Orange series alongside with new characters who debuted in the spinoff.
Episodes
External links
Ad blocker interference detected!
Wikia is a free-to-use site that makes money from advertising. We have a modified experience for viewers using ad blockers

Wikia is not accessible if you've made further modifications. Remove the custom ad blocker rule(s) and the page will load as expected.