The Fruity Times is a newspaper that releases news, like any other newspaper. There is only one known article. The heading is Gorilla Escapes From Local Zoo. The subheading is Study Finds That Knives Are Dangerous. When Kiwi explodes the paper disappears, so it is possible the explosion blew the newspaper away.
Kiwi is seen reading it in The Exploding Orange.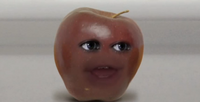 We could really use a little help around here.
This article is a stub. Please help Annoying Orange Wiki by expanding it.
Ad blocker interference detected!
Wikia is a free-to-use site that makes money from advertising. We have a modified experience for viewers using ad blockers

Wikia is not accessible if you've made further modifications. Remove the custom ad blocker rule(s) and the page will load as expected.